A Master Level Black Belt instructor and Kama aina of Hawaii who has pursued the martial arts endeavor since 1970. During the Vietnam era he served honorably as a U. S. Marine continuing the martial arts endeavor. A summary of verifiable martial arts accomplishments are as follows:
1. Black Belts: Taekwondo, Shobukan Karate, Chinese Goju and
Okinawa Kenpo Karate-Do and Kobudo (traditional
weapons).
2. Additional studies: Judo, Jujitsu, Aikido, Shaolin Kung Fu, Jeet Kune Do,
and USMC Special Weapons & Combat tactics
3. Has personally trained Thousands of students since 1982 and
has certified Black Belt instructors currently operating their
own schools.
4. Currently directs traditional karate schools at locations
internationally.
1993 As an Active Competitor, DeValentino was rated #1 in Forms, Fighting, and Weapons Divisions by the State of Hawaii Official Karate Congress due to his accomplishments in these annual events.
Butokukai Karate Championships

All Hawaii Okinawa Karate-Do Championships

Aloha Games Karate Championships

Okinawa Open Karate Championships

50TH State Karate Championships

Annual Armed Forces Karate Championships

All Hawaii Open Martial Arts Championships
Funakoshi Shotokan Karate Championships (California)
Festival of the Kings Martial Arts Championships (Maui, Hawaii)
Hawaii Taekwondo/karate championships
U.S. All America Kickboxing Championships (Pearl Harbor, Hawaii)
Hawaiian Ice Cultural Exchange Martial Arts Champs Honolulu
While on Assignment in Washington, D.C. 1990-93 DeValentino championed the following events:
Battle of Fredericksberg Open Karate Championships

Petersburg Open Karate Championships

Welch's Japan/Okinawa Karate invitational championships

E. Welch Jr. Memorial Martial Arts Championships (Wash. D.C.)

Tri-State Traditional Karate Championships (Woodbridge, VA)

Welch's Open Karate Kung Fu Championship (District of Columbia)

Toys-4-Us Karate Championships (District of Columbia)

June, DeValentino is invited by the USA Karate Team to participate on the team competitions in Europe.

DeValentino again rates #1 in Forms and Weapons by the Official Hawaii Karate Congress.
1995 DeValentino Rates #1 in Forms and Weapons by the Hawaii Karate League (Chuzo Kotaka).

DeValentino co-produces and co-hosts weekly Hawaii Television Show "KARATE STARS".

DeValentino places first in Self-defense, Showmanship divisions and 2nd place in Weapons during the First Annual Battle of Okinawa Karate Championships - Grandmaster Odo (Honolulu, Hawaii)

1995 Hawaii AAU Regional Champion Seng Au

(Honolulu, Hawaii)

Winner 1995 National AAU championships - Seattle, Washington

1995 AAU National Vice-chairman for Chinese Martial Arts, and Open Division.

36th All Hawaii State Karate do Championships - Chuzo Kotaka (Aiea, Hawaii)

Instructor of the Year awarded by National Karate Kobudo Federation on 7/17/2003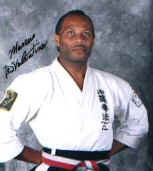 Return to Home Page
1996 DeValentino
Rates #1 in Black Belt Men's Forms (Kata) division for Hawaii Karate League, and Rates #1 in Martial Arts Federation of Hawaii
DeValentino wins gold medals in Forms and Weapons divisions at the 21st Annual Winter Open Karate Championships.
Inter-island Karate-do Championships, Bronze winner in Forms, and Weapons.
AAU/USA Regional Karate Elimination's DeValentino receives gold in sparring, silver in kata and silver in weapons
Matsuri In Hawaii Japan/Hawaii Goodwill
Karate Tournament by Chuzo Kotaka Gold medals, one in Sparring and the other in forms division
IKF Invitational Karate Championships by Chuzo Kotaka DeValentino wins Gold Medal in the Men's Black Belt forms.
8th Annual Martial Arts Federation Championships by Chuzo Kotaka. 1st Place in Men's Black Belt forms.
37th Annual All Hawaii State Karate Championships, Gold Medal - Weapons, Bronze - Kata, and Bronze in Sparring.
1996 DeValentino television production "Karate Stars" becomes a series.
1996 Hawaii AAU Regional Champion. Seng Au (Honolulu, Hawaii)
Winner 1996 National AAU champs Seattle, Washington
1996 AAU National Vice-chairman for Chinese Martial Arts,
37th All Hawaii State Karate do Championships - Chuzo Kota Aiea, Hawaii.

1998 Winner of forms and weapons division Festival of the Kings Championships Maui, Hawaii – by Ted Tabura

FAITH

: Christian

BIRTH DATE:

11 July 1956 OCCUPATION: Director DeValentino Shudokan Schools Intl. Martial Arts and Fitness Program Director, Cardio Kickboxing

Member: Dragon Society International (Torite Jutsu Okinawa Kempo)

Member: Regional Director, National Karate and Kobudo Federation (NKKF)

Member: Marine Corps Martial Arts Association




TEACHER LINEAGE: Nakamura Shigeru and Odo eikichi/Okinawa Kenpo & Kobudo

INSTRUCTOR: Grand Master Rick Moneymaker-Okinawa Kempo Torite Jutsu

PREVIOUS INSTRUCTORS:

Texas: Jay Jackson, P.D. Hale, Jeffrey Canaday, Eldon Fox, Phil Boston, and Steve Deluna, Roy Kurban

Korea: Grand Master Park, Min Suk Sung.

Hawaii: J. Bunch, Master Song Ji Sung, Master Kang, Professor George Iversen, Frank Consillio, Hai Laventure, Ramon Valle, Sigong Edmund Lewis, and Sifu Lloyd McKee.

East Coast: George M. Epps .

Okinawa: Grand Master Seikichi Odo
Rank and experience progression since 1970
8th Dan Okinawa Kenpo Karate Kobudo -V-Kenpo Association Board of Directors 23 Nov 2009
7th Dan Okinawa Kempo Torite Jutsu Dragon Society Intl. 11 July 2000
6th Dan Okinawa Kenpo Kobudo Karate Do Shudokan 11 Oct 97
5th Dan Okinawa Kenpo Kobudo Karate Do Shudokan 15 Sep 95
4th Dan Okinawa Kenpo Kobudo Karate Do Shudokan 08 Nov 94
3rd Dan Okinawa Kenpo Kobudo Karate Do Shudokan 23 Dec 92
2nd Dan Okinawa Kenpo Kobudo Karate Do Shudokan 28 Dec 91
1st Dan Okinawa Kenpo Kobudo Karate Do Shudokan 26 Dec 87
3rd Dan Shobukan Karate Don 22 Jun 84
3rd Dan Chinese Goju 07 Sep 85
2nd Dan Song Moo Kwan Tae Kwon Do 23 Nov 85
EDUCATION

: Alumni of Chaminade University of Honolulu.

CONTRIBUTIONS: Martial Arts teacher since 1982

OTHER MARTIAL ARTS STUDIED: Kajukenbo, Kung Fu, Judo, Jujutsu,

and USMC Special Weapons and Linear Assault Neural Engagement Combat Tactics

CURRENT ACTIVE SCHOOLS: Please visit http://okinawakenpodssi.com/dssi_locations.htm

TEACHERS LICENSE #30055 Kaiden Menkyo Shihan, Okinawa, Japan

REGISTRATION #01745, Okinawa, Japan

Click twice on the play button to see Marcus in Action!

Click HERE for a bigger screen.