Okinawa Kenpo DSSI Schools
Worldwide Locations
DSSI world headquarters relocated from Hawaii to Maryland, USA in January 03
---
OKINAWA KENPO KARATE FOR SENIORS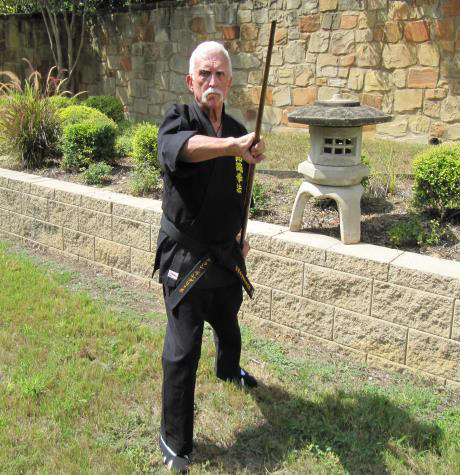 Dr. Gingrich has studied and taught Traditional Chinese Medicine (TCM), martial arts, qigong (energy building exercises)
and Tai Chi for more than 40 years. He has a Doctorate in TCM, and is a Research Associate Fellow of the
Occidental Institute Research Foundation for TCM. He is a direct student of Okinawa Kenpo Master Marcus DeValentino.

For more information and to register: Email: agingrich02@gmail.com Or Tel: 210-971-7194 (or Click HERE for the flyer)
---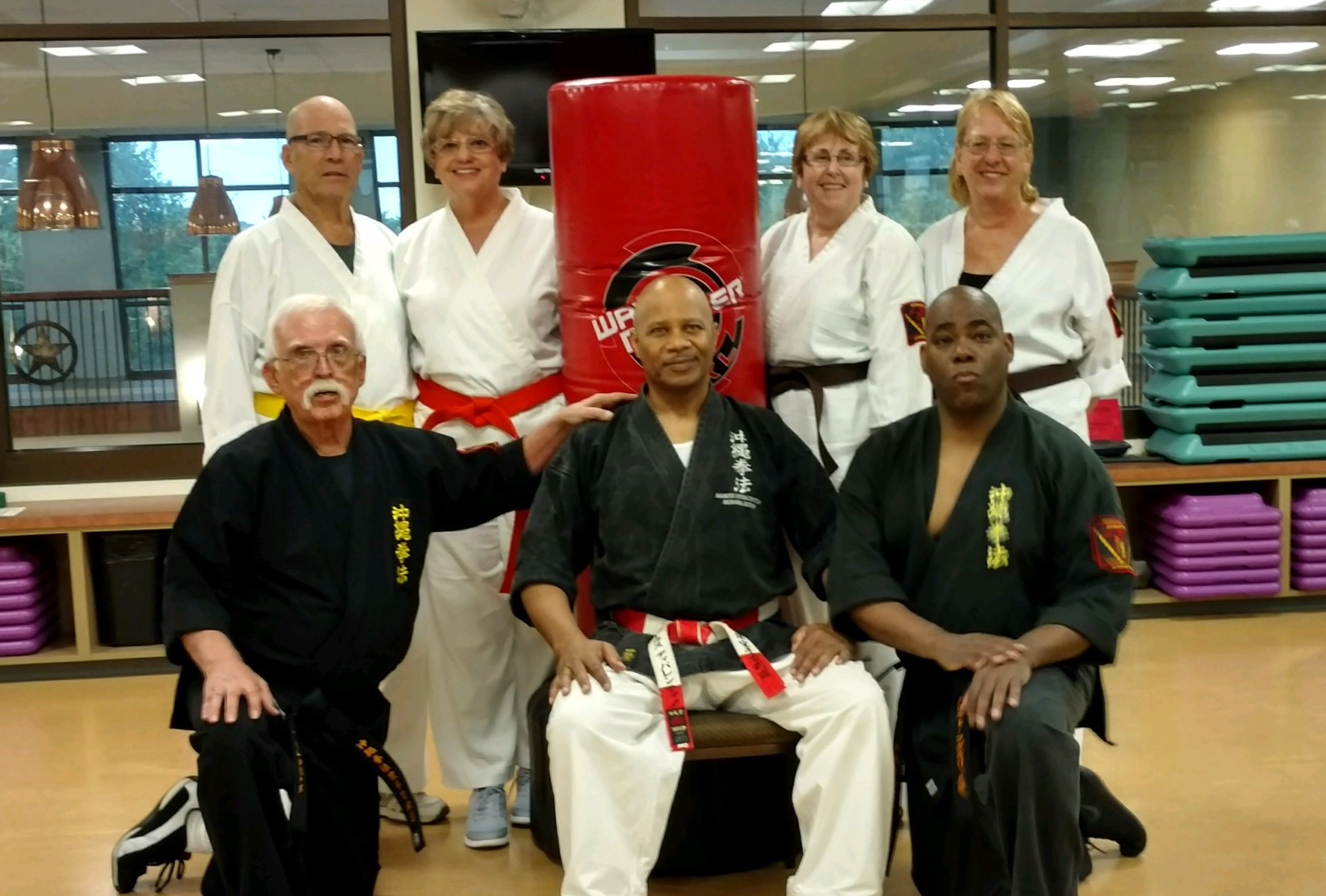 The Golden Dragons DSSI dojo was established in 2014 for the Hill Country Retreat community San Antonio for active seniors.
Front row left to right sensei Dr. Alan Gingrich, kyoshi Marcus DeValentino " seated center"' and sensei colonel Harold Huguley III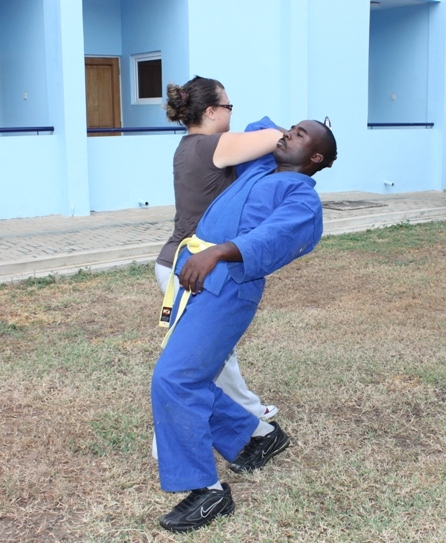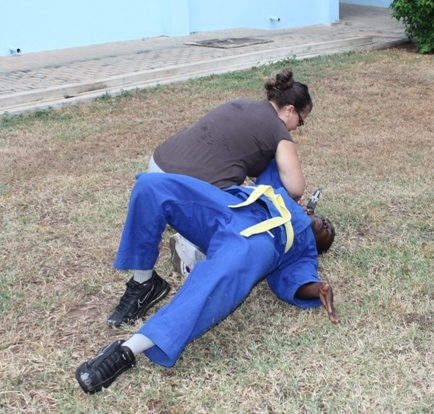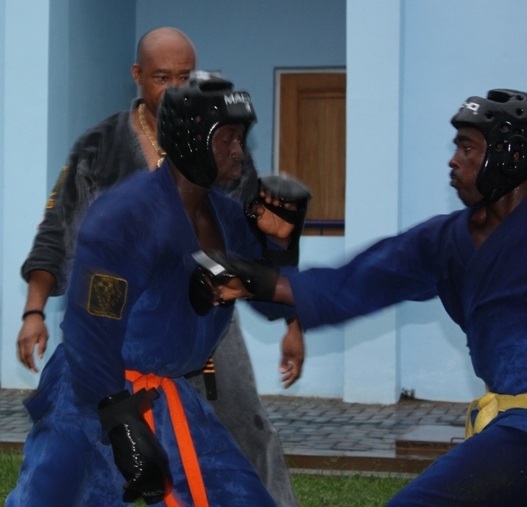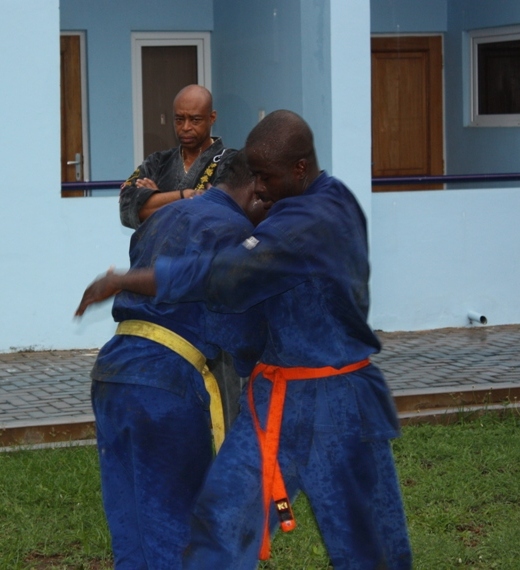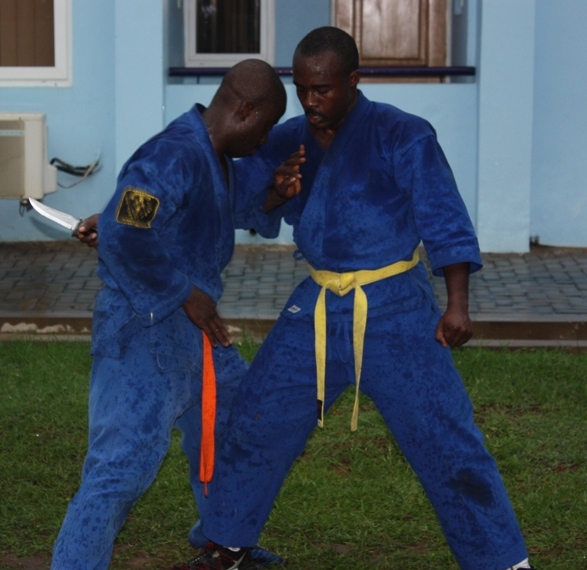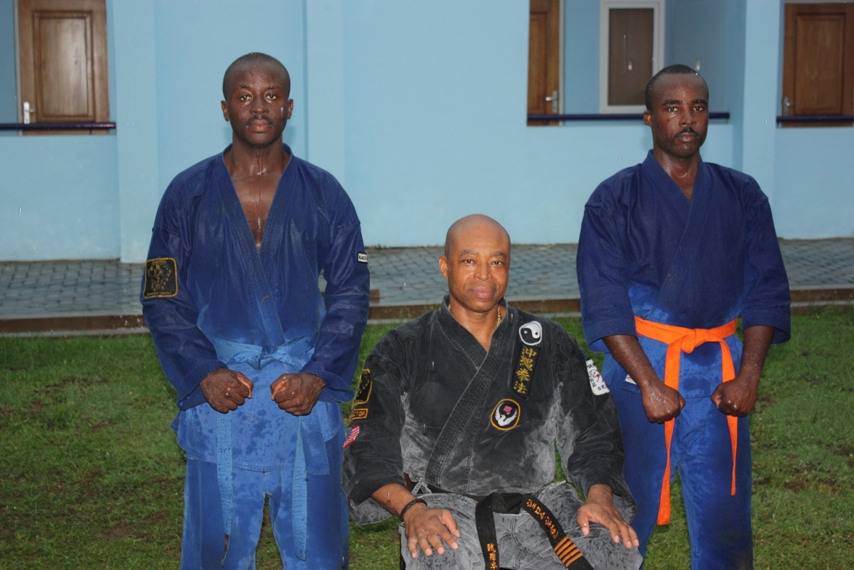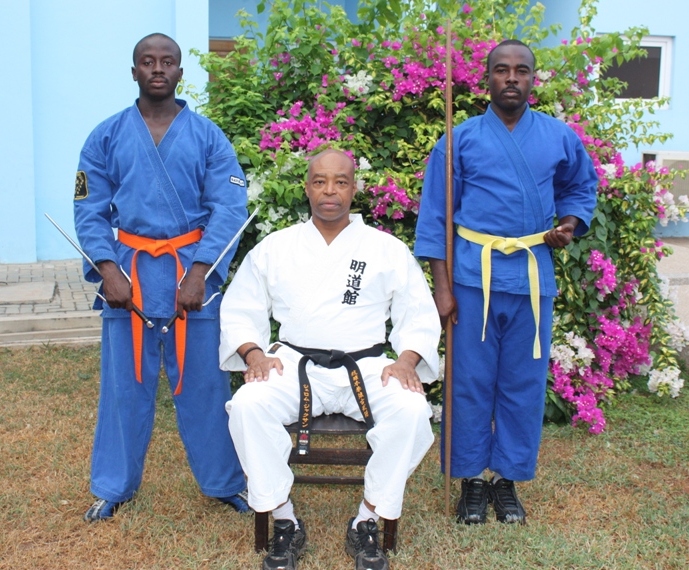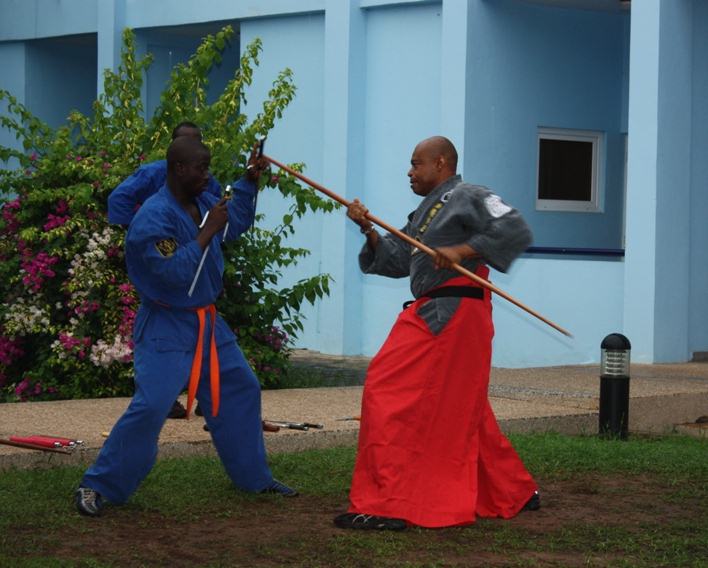 KOFI ANNAN INTERNATIONAL TRAINING CENTER MARTIAL ARTS CLUB
A REGIONAL BRANCH of DEVALENTINO SHUDOKAN SCHOOLS INTERNATIONAL
Located in Ghana Africa
School Schedule
-
DAILY 0530-630
Type of classes, e.g. Okinawa Kenpo, Kobudo, Weapons, Self Defense, Fitness Training, Adults, Children, etc...
Cost for lessons
-
NO COST
Fees for supplies, e.g. uniform, weapons, etc...
PROVIDED BY THE INSTRUCTOR BASED ON AVAILABILITY OF FUNDS.
MOB: 00233 (0) 244 335038 OR 00233 (0) 268 290581
FAX: 00233 (0) 203 718201
SNAIL MAIL ADDRESS: U.S. EMBASSY, (OSC) 2020 ACCRA PL, DULLES VA 21089 - 2020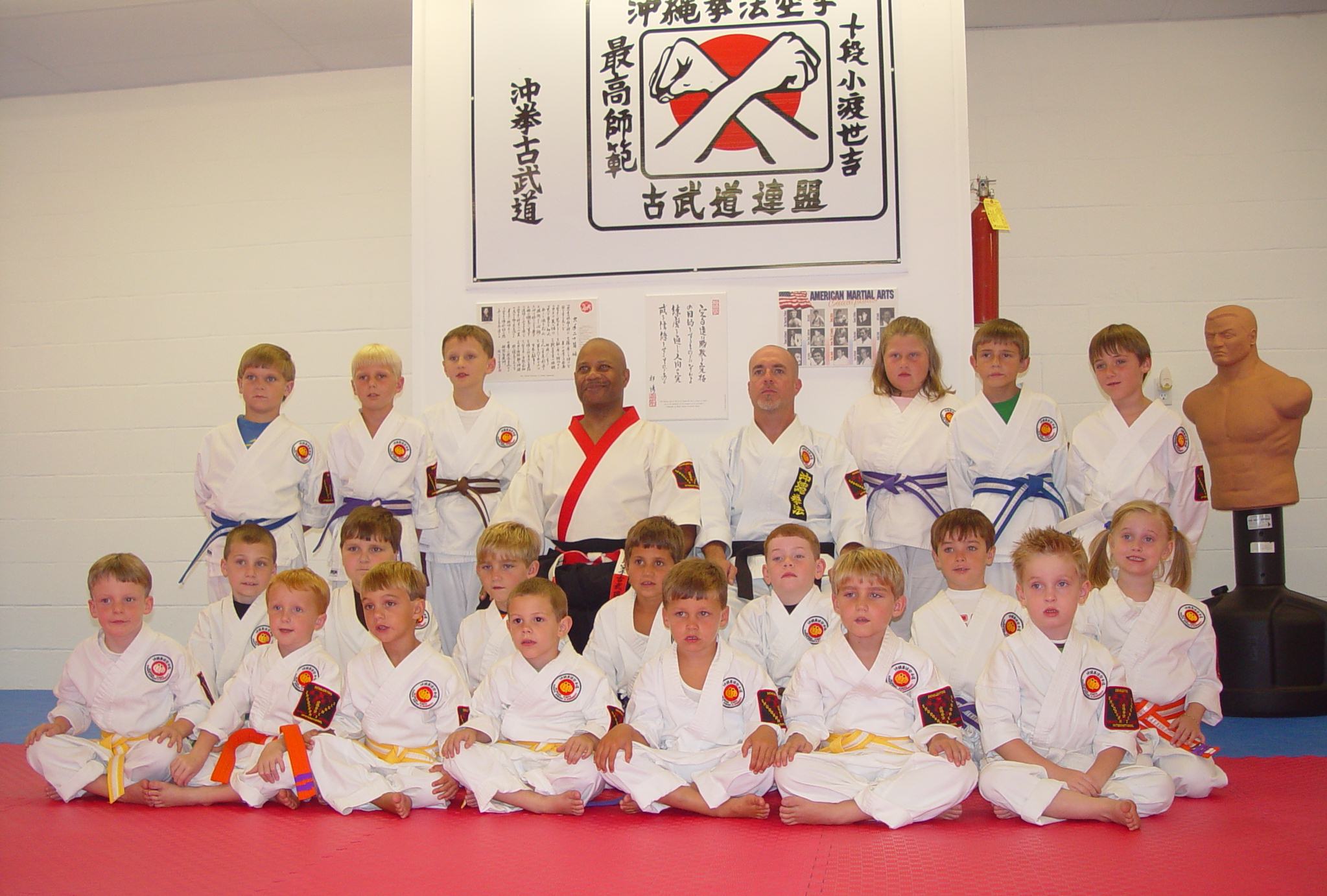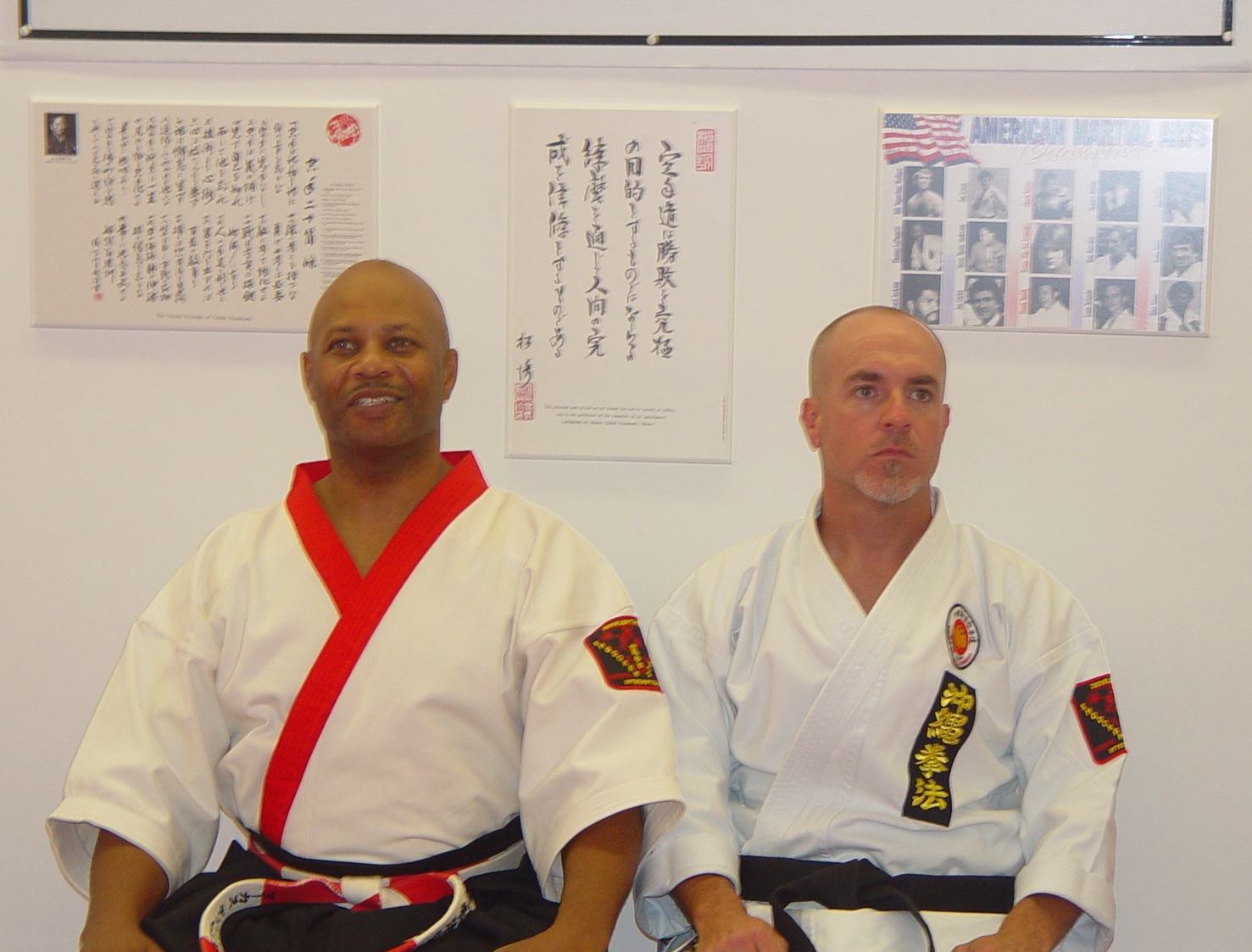 (Left photo above) Kyoshi Marcus DeValentino seated center poses with sensei F. Scott Kennedy and the Little Dragons of Maximum Karate & Fitness of Beaulaville, North Carolina. (Right photo) Kyoshi Marcus DeValentino and Sensei F. Scott Kennedy seated left and right. In addition to training for all ages the Maximum Self Defense school is also a registered Cardio Kickboxing location. Visit sensei Kennedy's website at maximumtacticalsurvival.com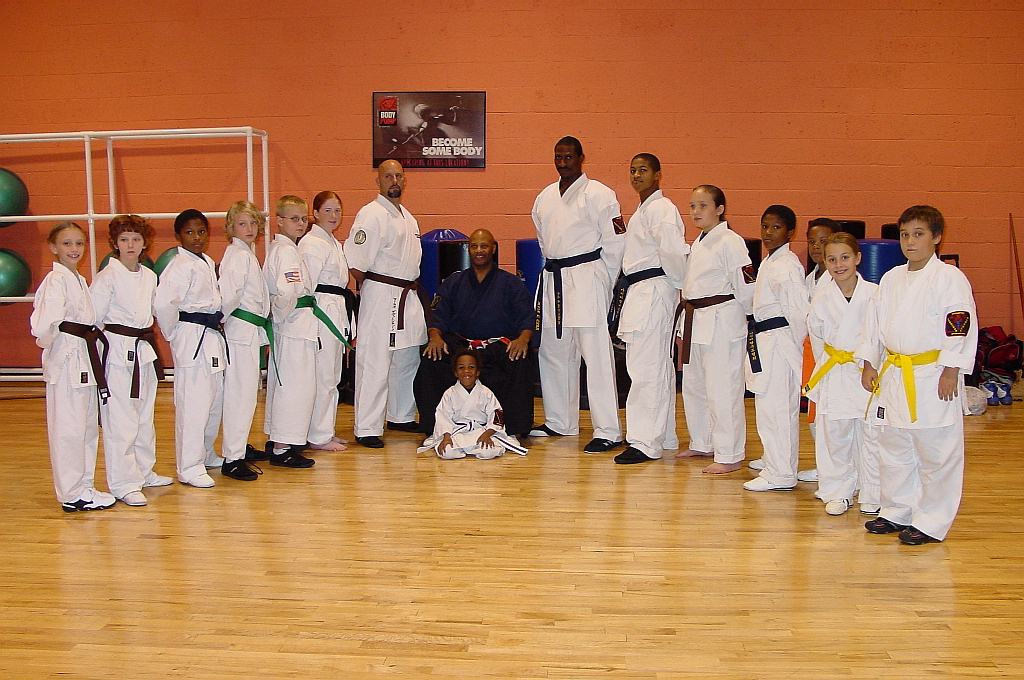 | | |
| --- | --- |
| | Okinawa Kenpo Karate & Kobudo School |
Crofton Golds Gym
1625 Crofton Centre
Crofton, MD 21114
USA
(410) 972-2178
The Crofton, MD dojo was established in 2003 by Kyoshi DeValentino (seated center). In November of`2005 DeValentino
transferred back to Hawaii and his student Alvin C. Carr (to the right of Kyoshi DeValentino) became branch
director and Sensei for this location.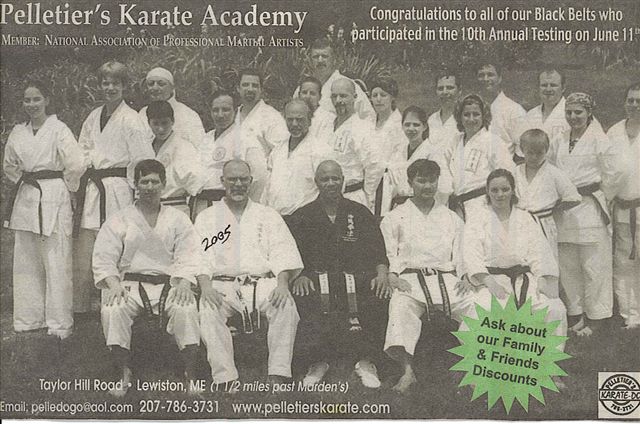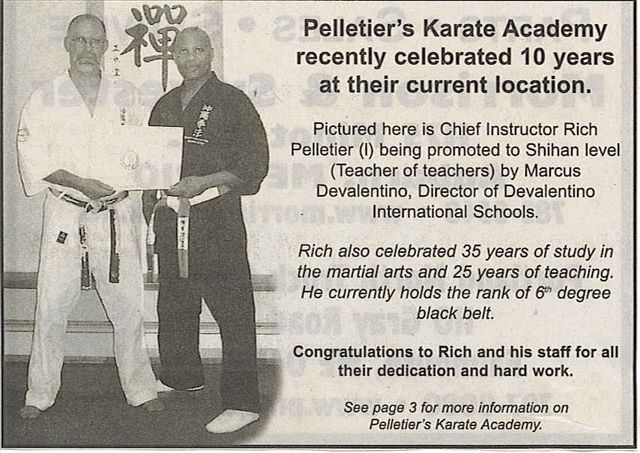 Pelletier's Karate-do

Located in Lewiston, Maine

Chief Instructor Richard Pelletier Sensei
To visit their website, Click HERE.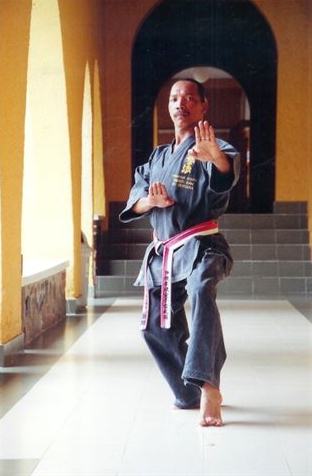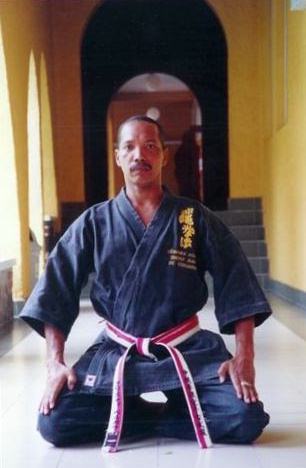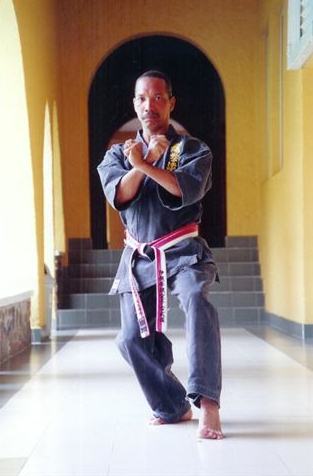 Cristino Vergara is the senior ranking DSSI representative of Panama, Central America

Vergara Shudokan



renshi_vergara@hotmail.com



231-778-7794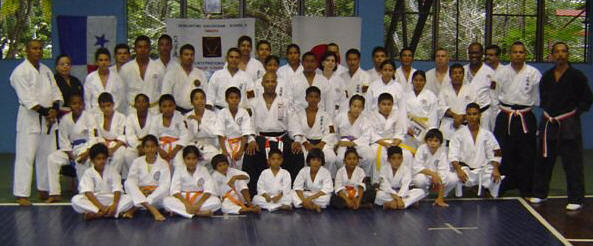 October 24, 2003 DSSI Panama televised Kobudo seminar (DeValentino seated center)
Located in Panama, Central America, Balboa-Ancon

Sensei Christino Vergara
phone: 507-227-6229
For more photos, Click HERE.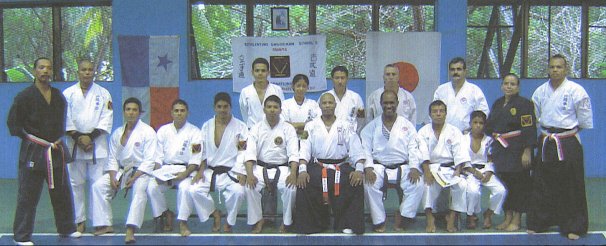 Panama Black Belts Since 1998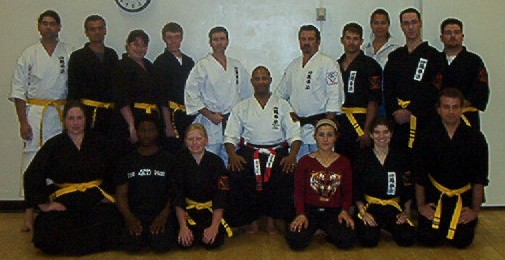 DSSI Florida branch (Broward Community College, Ft. Lauderdale, Florida)

Our BCC Kobudo group of college students pose with Marcus DeValentino (seated center)
after a belt testing on 15FEB03. (Above)
The point of contact for the senpai is mnolan~broward.edu
Tel. for Senpai Michael Nolan is (954) 201-6882
L-R senpai Michael Nolan, Shihan DeValentino(seated)sensei Anthony Thompson. (Below)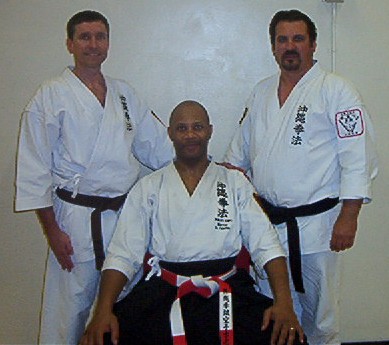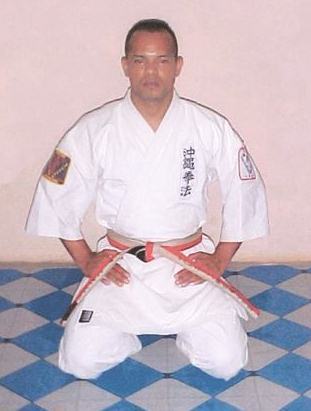 DSSI main branch Ft. Lauderdale, Florida


Contact: Cesar Fernandez, Shihan Sensei
216 N 61 Ave. Apt. #5
Hollywood, Florida 33024
Tel. (954) 274-5572




Florida Black Belt Hall of Fame Master Instructor 2000, 2001, 2002
Faith Martial Arts Founder
Sensei David Armstrong

DSSI Colorado Branch Director Sensei Gina Pavicich (seated center)

poses with some of her 2012 students

Sensei Gina Pavicich

DSSI branch school

975 H Garden of the Gods Rd.

Colorado Springs, CO 8O9O7


Click HERE to see our video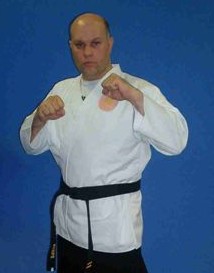 Central Pennsylvania Martial Arts Academy/DSSI

Sensei Mark P. Jovich Jr. /Master Gunnery Sgt. USMC
29 Harverford Circle
Manchester, PA 17345
(717) 266-2322

Email: Jovichm@msn.com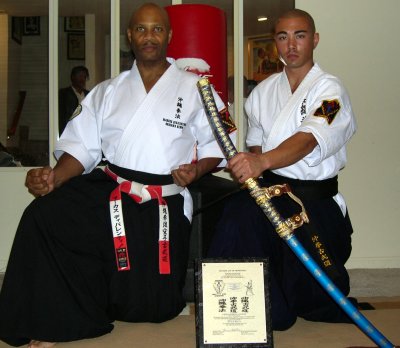 Coming soon!
DSSI Italy with sensei Chris Backer (to the right of Shihan DeValentino)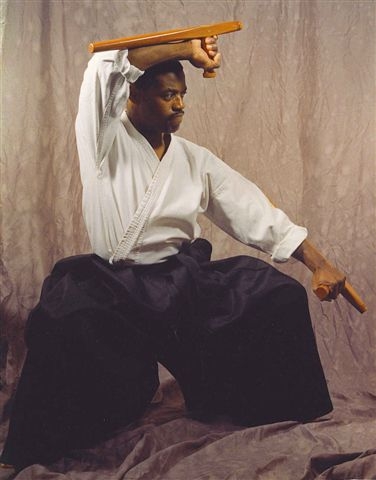 Duane Vincent's Okinawa Karate & Kobudo DSSI

106 Pocohontos Ave.
Warner Robins, Ga 31088
Phone # 478-329-1066
Email: duane.v@cox.net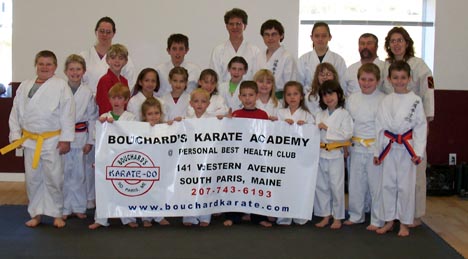 Sensei Donna Bouchard here with her children's class (second row to your right)
directs the Paris, Maine DSSI branch. She is a direct student of Shihan Rich Pelletier
of the Lewiston, ME branch.
Bouchard's Karate Academy
141 Western Ave.
South Paris, Maine 04281
207-743-6193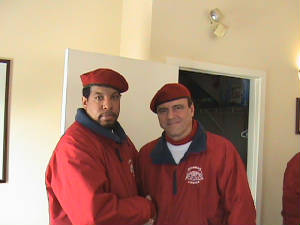 JOPAWII Youth Foundation, Inc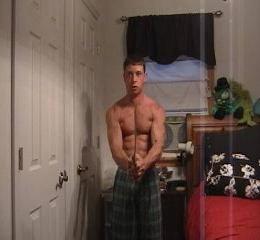 Lean-Visual Combat System
http://lean-vcs.com/index_files/Page413.htm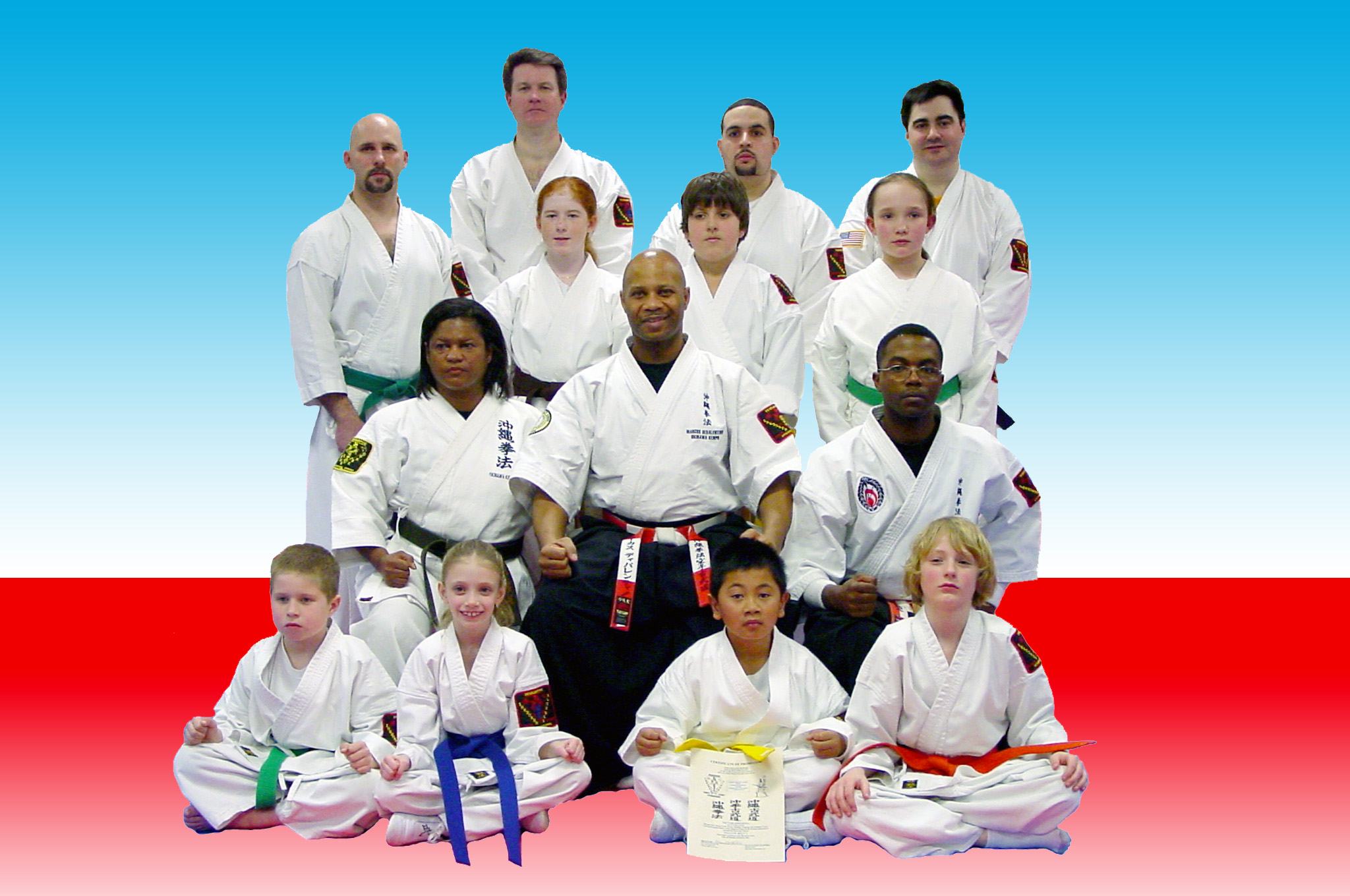 Severn Valley Tennis & Fitness Club
Severn Maryland, USA
Established 01/01/05
---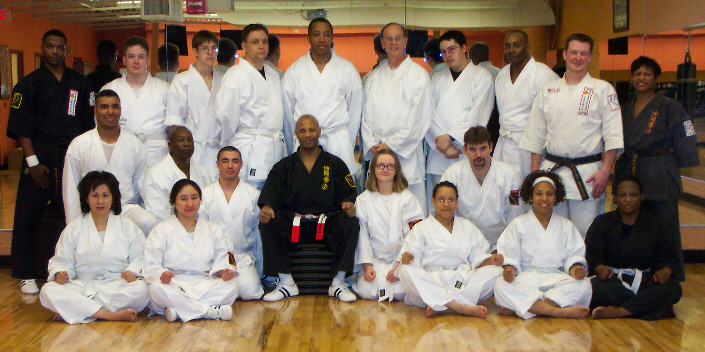 Gold's Gym
Crofton Maryland, USA
Established 03/03/03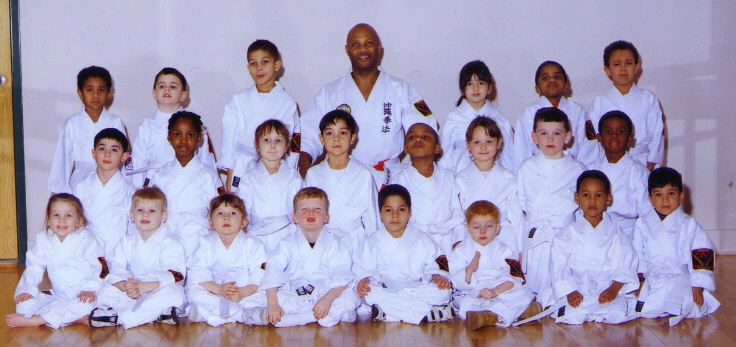 Little Dragons Class Ages 4 - 6
DeValentino Shudokan
Gold's Gym
Crofton Maryland, USA
Sensei DeValentino seated center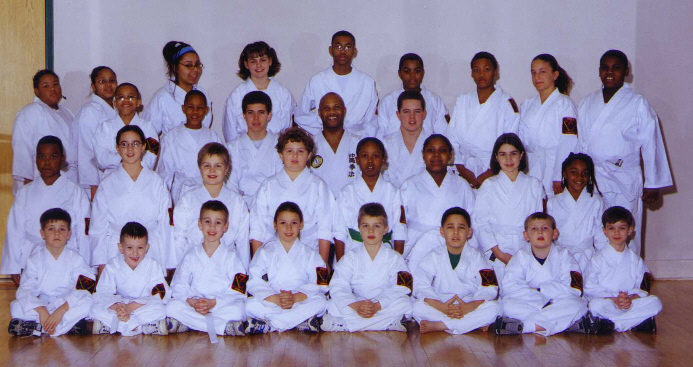 Children's Class Ages - 7 - 18
DeValentino Shudokan
Gold's Gym
1625 Crofton Centre, Crofton Maryland, USA
(410) 451-4653
Sensei DeValentino seated center 3 row back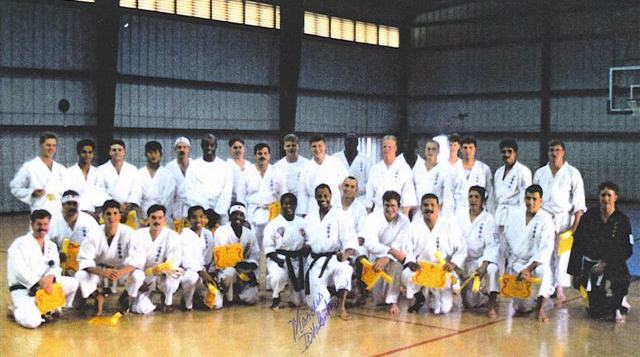 U.S.S. Fletcher (Navy destroyer ship) Crew once trained
secretly and intensely at a hanger on Marine
Barracks/Pearl Harbor, Hawaii. School est. 02/99

DeValentino Shudokan Schools Hickam
Located at Hickam AFB Fitness Center Honolulu, Hawaii.
Shihan Sensei Marcus DeValentino

For more pictures, Click HERE



DeValentino Shudokan Schools

International, Hickam
DeValentino sensei (background) teaches USAF Major Ray Swogger the energy palm strike during a tameshiwara (power breaking) class


Marcus coaches Maj Jerome Jackson, USMC
with Energy Palm brick breaking.


DeValentino Shudokan Schools International, Hickam

Marcus (standing background) coaches USMC Colonel Dave Head (Desert Storm) in power breaking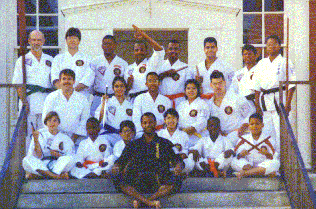 WRAMC Fitness Center Dojo
Located at Walter Reed Army Medical Center, Washington, DC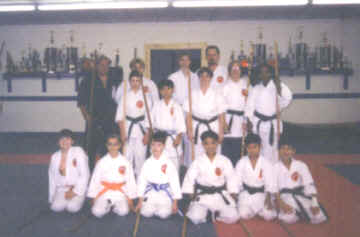 Renzokuken Dojo - DSSI
Located in Seattle, Washington
Chief Instructor Ron Robles Sensei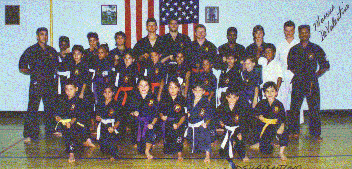 Schofield Barracks, HI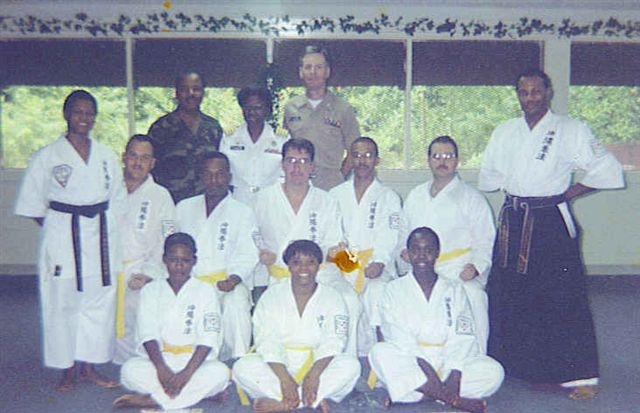 NAVCAMS Hawaii DSSI school est. 1995 for Deshi sensei Wanda DeValentino
---

Other Previous Locations:

Baltimore, MD
Wahiawa, HI, NCTAMS PAC, USN

Dallas, TX

U.S.S Enterprise CVN 65

Navarre, FL
Travis Air Force Base, CA

Heidelberg, Germany

Fort Bragg, NC

Utah

USS Fletcher, Pearl Harbor, HI

Forest Glen, MD

HAFB, Makai, HI

Camp Smith, HI

Pearl City Recreation Center, Pearl City, HI

Idaho

Return to Home Page